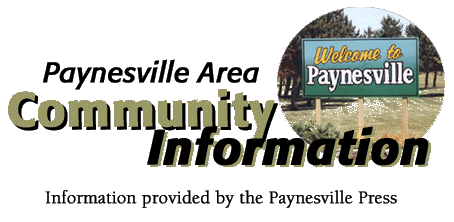 Nestled in the heart of central Minnesota, the Paynesville area has used its charms for thousands of years to attract visitors. The first to come were hunting-and-gathering Indians centuries ago, and now modern man comes by car from the cities and from out of state. These days more and more people are lured to visit and to make our community a permanent destination, especially young families and retirees.
Three lakes are the core of the local tourist trade, particularly during the summer. Rice Lake and Lake Koronis are linked by the North Fork of the Crow River. Lake Koronis, which covers 3,014 acres, is just a mile south of Paynesville. Rice Lake, with an acreage of 1,639, is located several miles to the northeast, and upstream, from Koronis. Long Lake, with an area of almost 300 acres, is located seven miles west of town, just south of Highway 23.
A new recreational trail for bikers, walkers, rollerbladers, and more has just opened on Old Lake Road on the north side of Lake Koronis. Soon the trail will connect to Paynesville; then plans are for it to circle around Lake Koronis and attach to the Glacial Lakes Trail.
Several resorts provide a base for visitors to explore the area. The oldest resort on Lake Koronis was started in the first decade of the 20th century; the oldest on Rice Lake was started in 1911. Koronis is home to a summer camp - Lake Koronis Assembly Grounds, and all three lakes offer excellent opportunities for fishing, canoeing, waterskiing, tubing, cruising, swimming, and sailing. Each lake has at least one public access, and Koronis has five, as well as a city and a county park.
For many, true enjoyment of the lakes comes from their serene beauty, like when the last ray of the sunset reflects across the still waters of summer, or when the bright blue winter sky contrasts with the view of glistening snow and ice. It's the desire to see these views on a regular basis that helps attract new residents to the area.
The lakes, and the accessibility to the Twin Cities, helped tourism to thrive here. Now, the lakeshore and countryside around Paynesville are in demand for full-time residences.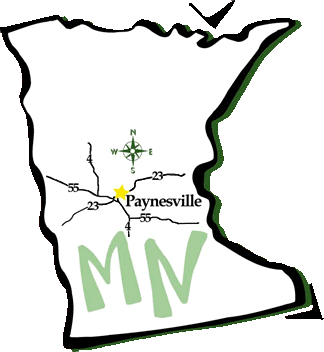 Paynesville is located 90 miles west-northwest of the Twin Cities and 30 miles from both St. Cloud and Willmar. The city of Paynesville has 2,300 residents, and more than a thousand people live in Paynesville Township as well. The entire Paynesville area includes almost 6,000 permanent residents. The area lies in portions of Stearns, Meeker, and Kandiyohi counties. State highways 4, 23, and 55 link the area to the rest of the state, and access to Interstate 94 is only 25 minutes away.
In addition to the lakes, a wealth of activities, both out of doors and in, provides opportunities for nature lovers and for those who prefer to be active indoors. Fishing, hiking, hunting, golfing, and sporting interests can be fulfilled outside, while antique browsing, movie and museum going, and shopping are available inside. The retail shops in Paynesville offer a wide selection with friendly service. From florists to car dealerships, from boat showrooms to antique dealers, an assortment of stores welcomes buyers and browsers.
Agriculture and related businesses, a large health care system, manufacturing, retail businesses, and tourism give the local economy diversity.
From the start of European settlement, agriculture has been a primary economic endeavor in the area. Dairy, beef, pork, and poultry - especially turkeys - are produced locally. Stearns County is a leading dairy county in the nation. Common crops in these parts are corn, soybeans, and alfalfa.
Industry continues to grow in the area to complement the agriculture. Manufacturing started in town largely as a service to agriculture, but has expanded tremendously in recent years. A prime example is a two-year-old steel plant in the city's Industrial Park. This business started as a blacksmith shop and now - like many companies in the area - relies on computer-controlled equipment.
Locally manufactured products range from cheese and dairy products to jerseys for professional sports teams, from snowmobile parts to injection molded plastics and fiberglass components, from lawn and garden items made of recycled plastic to metal goods.
The diversified economy, modern health care services, and quality schools are selling points of small-town life in the area. Visitors are encouraged to come and explore...and stay if they like.
---
---

Comments regarding this web page can be
addressed to the